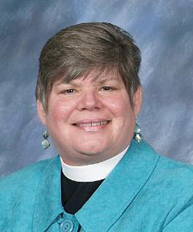 Dear St. Christopher's Family,
I saw a –church sign recently that I actually agreed with. (I usually have a problem with the theology on most of these signs.) It said "School is out but church is still in session." Very early on in my ministry a parishioner asked me how long I had been at the church I was serving. I said almost a year. Their reply was "Yes. But you started in the summer and the summer doesn't really count." It was difficult not to be offended by this because I knew that I was practicing my ministry even during the summer and it did indeed "count." This is unfortunately the way many of us think, however. We look at church as something we do from September to June and we take the summer off. We may show up once or twice just to "keep our hand in it" but for the most part we take a vacation from Church. Vacations are very important – time for rest, renewal and relaxation are vital to all of us if we are to stay healthy. We all need to get away – but not from God. (We couldn't, even if we tried.)
On June 4th we celebrated Pentecost – the birthday of the Church. It's interesting that the birth of the church coincides with the time of year many of us begin slack off in our church attendance. The birthday gift that was given to the disciples was the gift of the Holy Spirit. It was the first time this particular gift was given. I have a hunch that the disciples had a similar reaction to this gift that we often have when given gifts we don't quite understand. "What am I supposed to do with this?" Jesus tells His disciples exactly what they are to do with this gift – they are to forgive sins and be bearers of peace. When we receive the gift of the Holy Spirit it is not ours to keep, it is a gift to be shared generously and lavishly. Pentecost is a baptismal feast; in our baptism we are "Sealed by the Holy Spirit and marked as Christ's own forever." Hopefully we grow into the promises that are made for us in our baptism. One of those promises we make is that we will "Continue in the apostle's teaching and fellowship, in the breaking of the bread, and the prayers." We promise that will keep coming to church, even in the summer. My admonishment in the first paragraph was not intended to make anyone feel guilty but rather to remind all of us that in order to allow the Holy Spirit to work through us we have to be continually nourished by the Word of God, the love of our brothers and sisters, the Eucharist, and prayer. This church is one of the gifts we were given in order to stay connected to the Source of all life. That Source is always there to replenish us – all we have to do is show up.
See you in church,
Eileen+
rector@st-christophers-portsmouth.org